OBSOLETE ITEM - NO LONGER OFFERED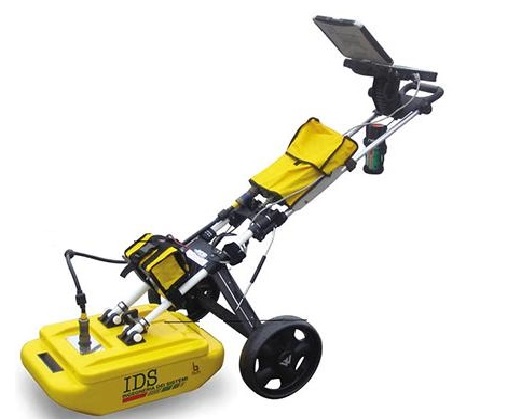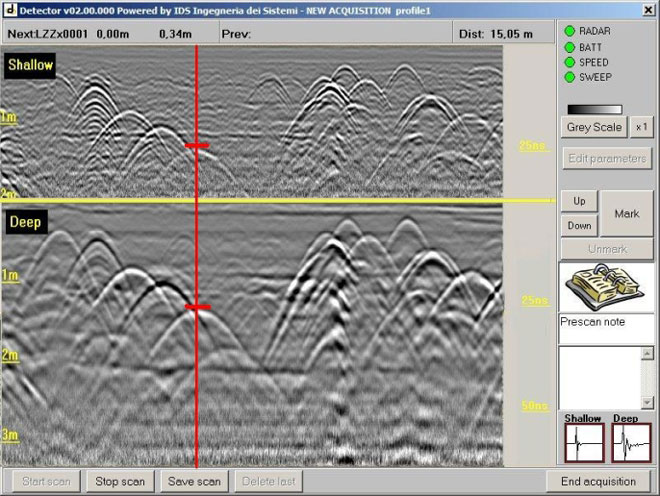 Detector DUO - Dual Antenna Ground Penetrating Radar
The Detector Duo uses radar technology to locate buried utilities before starting trenching, drilling or no dig operations. The unit provides easy to interpret real time results and locates the exact position of pipes, cables and bedrock. Compact, easy to transport and deploy, the detector should be the daily tool of contractors, local authorities and utility service providers.
Detector Duo helps prevent damage to cables and pipes and to avoid the risk of pipe rupture during trenching and drilling operations. It can be easily used by a single operator, and can be folded and stored in a car's trunk or back seat.
Detector Duo is the only GPR that uses two separate antennas ( 250 MHz – 700 MHz ) for increased resolution and the depth of investigation in order to limit interpretation errors.
This easy-to-use radar tool immediately locates utilities, simultaneously displaying on the same screen deep and shallow buried metallic and non metallic pipes and cables.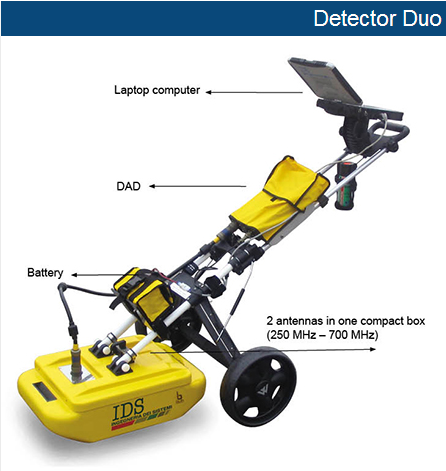 The Detector Duo SW is a high performance acquisition software application designed for the Detector Duo system. Being very user friendly makes on-site detection of all types of utilities fast and practical. In particular, this software permits the user to acquire raw data, simultaneously showing deep and shallow targets in one display after performing only a single scan, therefore saving time and costs.
The software can operate natively with metric or imperial units. The user can mark pipes directly on the screen in real time and can also apply several layout options in real time to maximize the ability to investigate the subsurface. Data is stored in real time on the computer hard disk. Review mode permits the user to add other utilities not seen during acquisition in order to complete the final results.
The software is also able to print a map indicating the location, depth and type of utility detected. Detector Duo is able to operate with GPS. The track of the survey path as well as marked pipes is stored in a dedicated folder and it is possible to view it using several different software packages, for example Google Earth.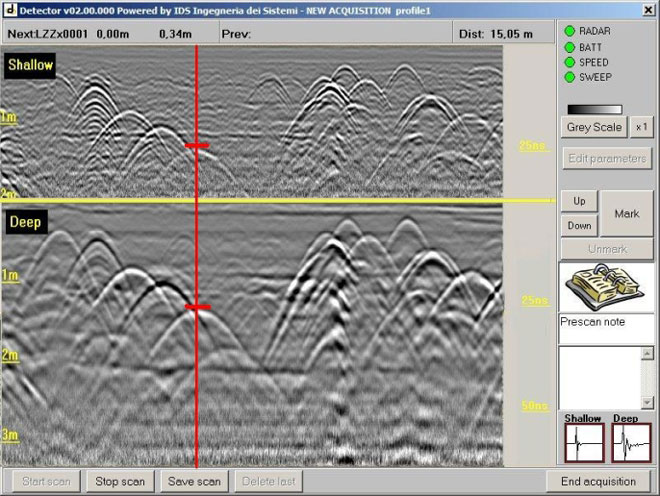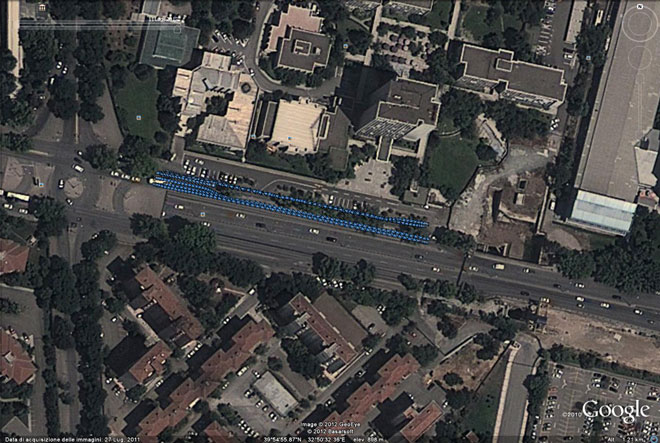 Key

Benefits
Deep and shallow antennas:

Two antennas (250 MHz – 700MHz) in the same box help the operator to locate pipes and cables giving him the proper frequency for the specific locating need. Real time display of deep and shallow antennas on the same screen is also available.

Automatic Calibration -

For quick start up; automatic recovery of soil type parameters; no need to insert propagation speed or soil dielectric constants.

More than 8 hours of autonomous use:

The Detector Duo is equipped with a low power consuming control unit.

Easy to use:

Plug and play, few buttons, easy software interface.

GPS:

With GPS the operator can see the path covered during the survey as well as geo-locate the pipes marked on the software.

Software: Both high Performance & User Friendly
Technical Specifications
Weight (w/ Battery but no Laptop)
15 Kg (33 Pounds)
Survey Speed

5.6 Mph (

9 Km/h)

Weight
33 lbs (15 kg)
Battery Operating Time (without Laptop)
More than 10 hours
Power Supply
SLA battery
Positioning
Metric wheel and/or GPS interface
Water Resistance
100% (sealed)
Antenna Footprint
23.5" x 14.5" (60 x 37 cm)
Data Collection Type
2D (single antenna)
Number of Antennas
2
Antennas Central Frequencies

no. 1 at 250 MHz




no. 2 at 700 MHz

Collection Speed
100 scans/second
Sampling Interval
1" (2.5 cm)
Type of Calibration Gain
Automatic
Typical Range
Automatic (128 nanoseconds)
Data Playback
YES
Data Printing (w/ Pipe Descriptions)
YES
Display Mode
Color/grey scale palette
Recommended Laptop
Panasonic CF-19 Tough-book
Pricing
Call today for a free DEMO !!!