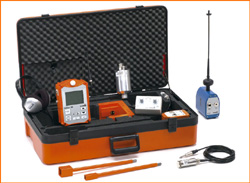 SeCorr® 08 Correlator
A Leak Noise Correlator (LNC) with the latest DSP-techniques for the calculated detection of water leakage.
Key Benefits
Digital Signal Processor (DSP) – Fast accurate calculations allowing quicker leak location
Direct microphone and headphone sockets – Allows SeCorr® 08 to be used as a basic electro-acoustic leak detector
High resolution pixel display – High definition of display
All system components contained in one robust case – All parts can be recharged whilst remaining in the case
Lightweight ergonomic design – Comfortable to use over a full working day
Application specific menu structure – Intuitive operator sequences
Fast Fourier Transformation (FFT) correlation – precise location even with the most challenging leaks
Radio transmission of over 6667 ft (2,000 m) – Correlation possible over long distances
Wide selection of components available – Select optimal configuration for the prevailing conditions
Two levels of software, standard and professional – Chose the version most suited to your requirements.
Input via jog dial and / or water resistant film pad – Users can select best or both methods according to their personal preference e.g. with gloves on or off
"Coherence analysis" – Allows automatic or direct settings of frequency filters for optimal performance and easier location of the most difficult leaks noises
System components
Receiver

Display 320 x 240 pixels with background LED illumination

PC connection for information download

Socket for direct connection of a variety of microphones

BNC connector for antenna input with 90 deg rod aerial (rotary)

1 or 2 radio channelsBuilt in NiMH rechargeable batteries and 12V socket for direct power or charging from vehicle

Operating by 12 V= from a vehicle is possible

Operating/storage temperature: -10° … +40 °C / -20° … +60 °C

Weight: approx. 1.3 kg

Dimensions (W x H x D): approx. 12.5 x 18 x 6.5 cm

Operating time: approx. 8 hours
Transmitter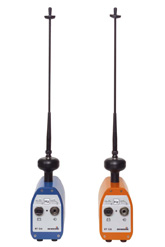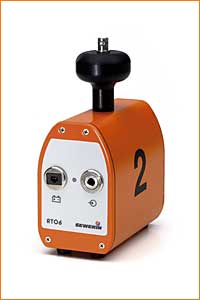 As soon as the microphones receive the noise from a leak the signal is automatically amplified to the optimum level and transmitted digitally along with the amplification details to the SeCorr® 08.
Both pieces of information are analyzed and processed by the SeCorr® 08. Utilizing 500mW transmitters signal transmission is clear and strong. Correlation of up to 4km is possible; local conditions may affect the range. Even if the radio transmitter is located within buildings or behind cars or trees correlation can be carried out successfully.
Since correlation requires two microphones, these can either be connected to both radio transmitters or if using only one radio channel, directly to the SeCorr® 08.
Automatic microphone recognition when attached

Automatically on when microphone connected

Selectable low-pass filter to increase performance on non-metallic pipes

Automatic signal control

500 mW output power level with optimal selectivity

Operating/storage temperature: -10° … +40 °C / -20° … +60 °C

Weight: approx. 1.3 kg

Dimensions (W x H x D): approx. 12.5 x 19 x 7.3 cm

Operating time: approx. 10 hours
Sensors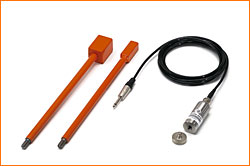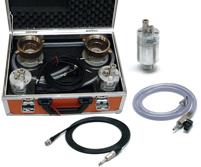 Highly sensitive Piezo accelerometers record noises in the frequency ranges of approx. 1 to 10,000 Hz. A range of adapters enables connection to a wide variety of measuring points.
Hydrophones do not pick up the sound from the pipe material, but directly out of the water column. This offers a considerable improvement of the location range, especially with correlations on plastic pipes. Locating leaks over several hundred meters is possible.
Software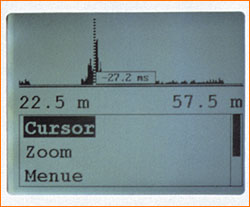 Software "Professional" for all location demands
Software "Standard" for the less experienced operators
Case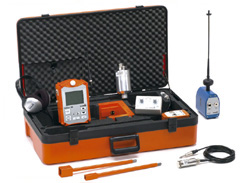 This robust plastic case offers space for all system components. The Receiver and two transmitters can be charged simultaneously inside the closed case.
---