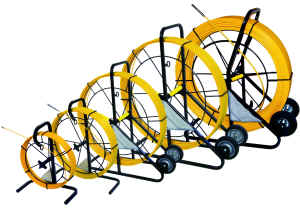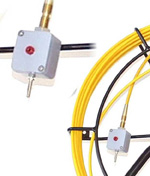 Locatable Duct Rodders & Continuous Duct Rodders
(Don't Forget to order Sondes or Tapes)
Detectable Duct Rodders are available in 5/16" and 7/16" diameter rods. They are available in the same lengths as the regular rodders and are mounted in the same frames. The purpose of the Detectable rod is to be able to accurately locate existing ducting underground or to locate the position of a blockage within a duct.

Each Detectable Duct Rod unit is supplied with a terminal box mounted on the frame with male and female banana terminals for external hook up. Both sizes of rod have #22 Ga. copper wire down the center of the fiberglass core.

It is recommended that a Roller Guide always be used in order to better make the connection between the end of the rod and the wall of the ducting. This is necessary in order to complete the circuit back to earth.

Any transmitter can then be hooked up to the terminal box with the second lead from the transmitter going to ground (spike into earth). Once switched on, the signal will be transmitted along the duct rod and a standard locator can then be used to locate the signal source from above ground.

We also offer Stainless Steel adapters with a 1/4" NC male thread for attaching a Sonde unit to the Swivel Rod End.
Key Benefits
Copper wires run entire length of rod for continuous detection
Adapter available for most Sonde units
High quality rod
Light Weight
Durable and Corrosion Resistant
UV Stabilized Safety Yellow Polypropylene Coating
Will NOT Soften or Lose Tensile Strength in Hot Weather
Will NOT become Brittle under Cold Conditions
Easy to Repair
NOTES
These Duct Rodders are custom Built to order and are non-returnable except for warranty. Exercise caution when ordering.

Caution should be exercised when ordering long lengths since the signal




diminishes with distance of rod traveled.

Extreme care should be taken when unpacking replacement rod because the fiberglass rod stores considerable energy and may cause severe injury.
---