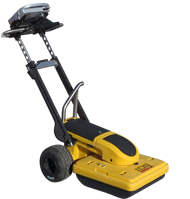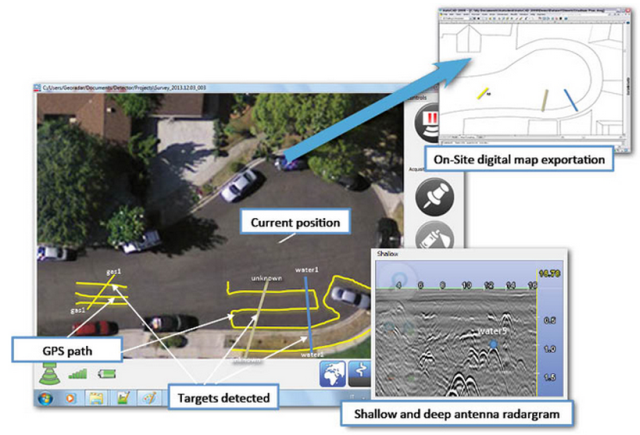 OPERA DUO - Dual Antenna Ground Penetrating Radar
STREAM C - 34 Antenna, Dual Polarized, Compact, Mobile Radar Array
Opera Duo is the first class ground penetrating radar for utility location and mapping from IDS.
The solution is available in two versions:
a compact, lightweight and more maneuverable two wheel system

a four wheel system which is more stable and is adaptable for use on rough terrain.
The main body of Opera Duo houses a dual frequency antenna of 250 and 700 MHz, as well as all of the electronics and the battery, with just the one external cable going to the acquisition PC.
This easy-to-use radar tool immediately locates utilities, simultaneously displaying both deep and shallow buried metallic and non-metallic pipes and cables on the same screen. The product provides easy to interpret real-time results, and locates the exact position of pipes, cables and bedrock.
Compact and easy to transport and deploy, the Opera Duo should be the daily tool for contractors, local authorities and utility service providers.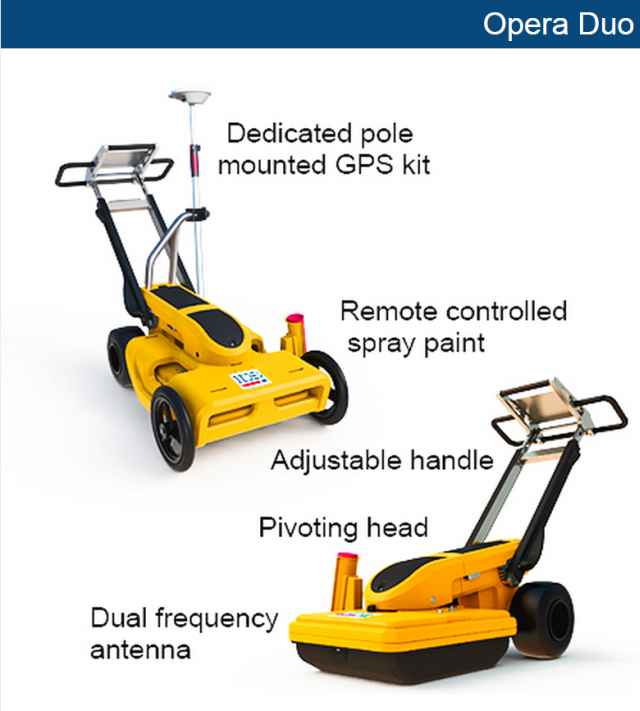 Superior maneuverability: A large, comfortable handle to make pushing and pulling easier, large wheels for better control and a balanced weight distribution to offer the minimum resistance.
Robust:
Engineered and built to withstand the harshest field conditions, the Opera Duo is suitable for heavy use in every type of terrain.

Easy to use:
Opera Duo uses an intuitive interface. Just click the start button to receive the best performance in every soil condition. There is no longer a need to perform calibration or adjust any other manual settings.

Result delivered on site:
IDS's proprietary solution tracks the position of the radar and marks targets automatically. All the acquired data can be exported to CAD and report can be produced directly on site.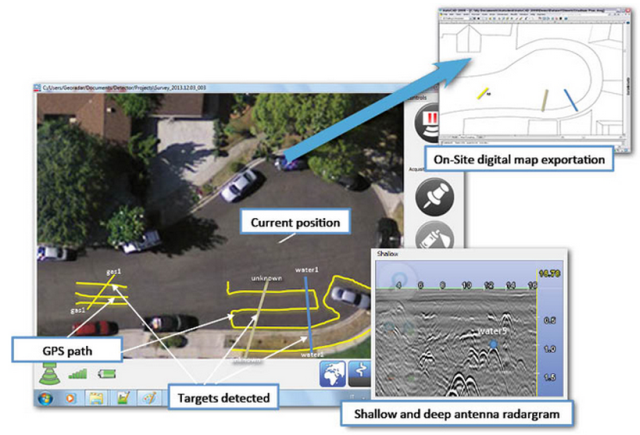 Key Benefits
Deep and shallow antennas:

Two antennas (250 MHz – 700MHz) in the same box help the operator to locate pipes and cables giving him the proper frequency for the specific locating need. Real time display of deep and shallow antennas on the same screen is also available.

Automatic Calibration -

For quick start up; automatic recovery of soil type parameters; no need to insert propagation speed or soil dielectric constants.

More than 8 hours of autonomous use: The Detector Duo is equipped with a low power consuming control unit.
Easy to use: Plug and play, few buttons, easy software interface.
GPS: With GPS the operator can see the path covered during the survey as well as geo-locate the pipes marked on the software.
Software: Both high Performance & User Friendly
Technical Specifications
Overall Weight (PC and

battery not included):

24 kg two wheels (53 lbs)

27 kg four wheels (59 lbs)
Recommended Laptop:
Panasonic CF-H2
Max. Acquisition Speed:
more than 10 kph (6 mph)
Power Consumption:
13.3 W
Positioning:
2 integrated encoders and/or

GPS - Total station
Scan Rate per Channel

(@512 Samples/Scan):
381 scans/sec
Scan Interval:
42 scans/m
Power Supply:
SLA Battery 12VDC 12 AH
Environmental:
IP65
Antenna Footprint:
40 x 50 cm
Number of Hardware

Channels:
2
Antenna Central

Frequencies:
250 MHz and 700 MHz
Antenna Orientation:
Perpendicular, broadside
System Frequency:
400 kHz
Opera Duo Acquisition

Software
We also have a complete range of Pipe & Cable Locators, including Acoustic & the Utra-Trac Acoustic Pipe Locator (APL) for plastic pipe location.
Call today for a free DEMO !!!